Les Légendaires goûtent un temps de repos et de détente après leurs aventures chez les congénères de Gryf. Mais leur sérénité (relative, en raison du caractère de certains) est soudain rompue par l'irruption de leur ennemi de toujours…
Échappant de justesse à l'anéantissement grâce à une aide inattendue, nos héros apprennent alors une terrible nouvelle. Eux qui ont à cœur le bien de leur monde risquent bien d'être à l'origine de sa destruction !
C'est ainsi que Danael, Jadina, Gryf, Shimy, Razzia accompagné de Tenebris vont repartir à la poursuite de leur destin, lequel apparait désormais bien sombre…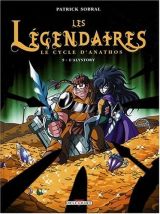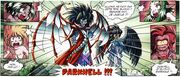 Ad blocker interference detected!
Wikia is a free-to-use site that makes money from advertising. We have a modified experience for viewers using ad blockers

Wikia is not accessible if you've made further modifications. Remove the custom ad blocker rule(s) and the page will load as expected.