Danael, Jadina, Shimy, Grif, Razzia, ainsi que leur nouvelle acolytes, sont enfin parvenus à pénétrer dans la cité cachées des Jaguarians. Mais pas tout à fait comme ils l'auraient souhaité ! Au-delà de la révélation pour Gryf de ses origines, ses compagnons auront bien du mal à prouver leurs bonnes intentions, en raison de leur qualité d'humains, race assez peu appréciée et à juste raison par les Jaguarians. Et cela ne risque pas de s'améliorer quand leurs hôtes auront appris que le but de la quête des Légendaires n'est autre que leur bien le plus précieux !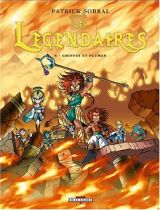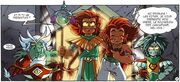 Ad blocker interference detected!
Wikia is a free-to-use site that makes money from advertising. We have a modified experience for viewers using ad blockers

Wikia is not accessible if you've made further modifications. Remove the custom ad blocker rule(s) and the page will load as expected.