Les Légendaires cherchent toujours un moyen d'annuler le rajeunissement de la population. Ils pensent avoir trouvé l'objet de leur recherche, quand un malveillant individu les en spolie. Bien mal lui en prend, car d'autres puissances interviennent dans l'histoire. Et ce n'est rien de moins qu'une intervention divine qui réduit à néant le nouvel espoir de nos héros ! Pire, l'existence même du monde d'Alysia est maintenant comptée. Et pour faire face à ce nouveau péril, les légendaires vont devoir trouver la cité secrète des Jaguarians, dont personne ne connait l'emplacement. Leur courage, leur opiniâtreté et leur chance suffiront-elle ? Peut-être une aide extérieure serait-elle nécessaire ?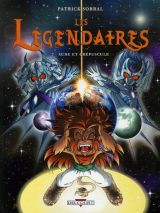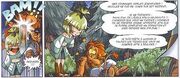 Ad blocker interference detected!
Wikia is a free-to-use site that makes money from advertising. We have a modified experience for viewers using ad blockers

Wikia is not accessible if you've made further modifications. Remove the custom ad blocker rule(s) and the page will load as expected.