Les légendaires, toujours assez peu populaires, en sont réduit à accomplir un travail alimentaire de héros banal pour un petit village : il s'agit de se débarrasser d'un monstre qui enquiquine assez sérieusement les habitants. Simple formalité pour notre valeureux groupe, qui aurait pourtant très mal tourné sans une intervention extérieure salvatrice ! Au travers du nouveau personnage ainsi présenté, nos héros sont de nouveau confrontés à la menace que fait planer sur Alysia leur ennemi de toujours, le sorcier noir. Et c'est ainsi que guidé par Halan, prince promis à Jadina bien avant l'accident Jovénia, que nos héros reprennent la route du sombre repaire du sorcier noir…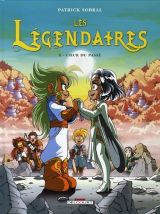 Ad blocker interference detected!
Wikia is a free-to-use site that makes money from advertising. We have a modified experience for viewers using ad blockers

Wikia is not accessible if you've made further modifications. Remove the custom ad blocker rule(s) and the page will load as expected.