Il est maintenant avéré que le terrible ennemi des Légendaires est de retour, lui aussi sous l'effet de l'accident Jovénia. Mais son retour s'accompagne de celui d'un alter ego plus fréquentable.
Dans le monde elfique, les plans du sorcier ont semé la discorde, et la guerre est proche. Mais c'est là le moindre des dangers générés par ses plans diaboliques !
Et nos deux groupes de héros vont devoir unir leurs forces à celle de tout le peuple elfique pour faire face à cette terrible menace…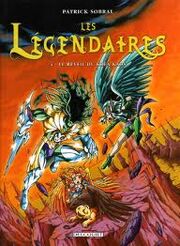 Ad blocker interference detected!
Wikia is a free-to-use site that makes money from advertising. We have a modified experience for viewers using ad blockers

Wikia is not accessible if you've made further modifications. Remove the custom ad blocker rule(s) and the page will load as expected.