Les Légendaires ont rencontré Elysio, un homme lui-aussi retombé en enfance mais qui est amnésique. Leur nouvel ami semble être en fait Darkhell, leur ennemi juré. Elysio refuse d'y croire et est bien décidé à retrouver la mémoire grâce à l'aide des Zar-iko, des hommes-plantes démoniaques.
Les Légendaires vont s'y opposer, de peur que s'il retrouve ses souvenirs, Elysio ne redevienne ce puissant et cruel 
sorcier...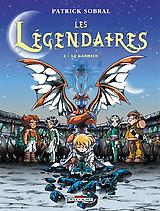 Ad blocker interference detected!
Wikia is a free-to-use site that makes money from advertising. We have a modified experience for viewers using ad blockers

Wikia is not accessible if you've made further modifications. Remove the custom ad blocker rule(s) and the page will load as expected.