Invités forcés des Chiridans, des êtres mystérieux morts depuis des siècles à la recherche perpétuelle de corps à posséder, les Légendaires ne tardent pas à découvrir qu'ils retiennent un prisonnier spécial, un dieu nommé Eternity. 
De son côté , Gryf sera confronté à plusieurs épreuves d'envergure dont libérer ses amis et choisir une bonne fois pour toutes vers qui son coeur penche : Shimy ou Shun-Day ?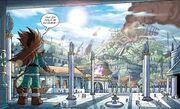 Ad blocker interference detected!
Wikia is a free-to-use site that makes money from advertising. We have a modified experience for viewers using ad blockers

Wikia is not accessible if you've made further modifications. Remove the custom ad blocker rule(s) and the page will load as expected.