Shimy est inquiète. Cela fait plus d'une semaine que Gryf aurait dû rentrer. Et s'il lui était arrivé quelque chose ? 
La réponse ne se fait pas tarder. Le voici qui revient en trombe. Mais quelle n'est pas la surprise de ses amis lorsqu'il présente... sa fiancée ! 
Et comme une nouvelle ne vient jamais seule, il les avertit d'une terrible catastrophe : la race humaine risque de disparaître d'Alysia...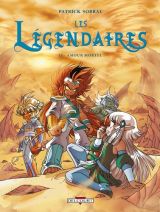 Ad blocker interference detected!
Wikia is a free-to-use site that makes money from advertising. We have a modified experience for viewers using ad blockers

Wikia is not accessible if you've made further modifications. Remove the custom ad blocker rule(s) and the page will load as expected.