En sauvant le monde du terrible Anathos
, les 
Légendaires
 sont redevenus des héros pour les habitants d'Alysia.
 Alors que l'avenir s'annonce radieux, une terrible nouvelle vient gâcher l'ambiance Adeyrid
, la mère de Jadina
[1]
est mourante. Elle demande donc à sa fille de revenir au Royaume d'Orchidia
 pour s'entretenir avec elle. Cette rencontre s'avère très délicate car le contentieux entre la mère et la fille est assez lourd. En effet, 
Jadina 
a été bannie par sa mère parce qu'elle avait rejoint les 
Légendaires 
au lieu d'assumer les charges dû à son statut de princesse. Mais ces rancœurs seront supplantées par les révélations que la Reine va faire et qui vont bien au-delà de tout ce qu'aurait pu imaginer 
Jadina
.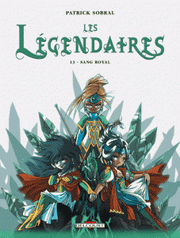 Ad blocker interference detected!
Wikia is a free-to-use site that makes money from advertising. We have a modified experience for viewers using ad blockers

Wikia is not accessible if you've made further modifications. Remove the custom ad blocker rule(s) and the page will load as expected.