Introduits au cœur de la forteresse ennemie, les Légendaires ont finalement révélés leur nouveaux pouvoirs. Et face à leurs alter ego, l'espoir change de camp… Parallèlement, l'union des tous les peuples d'Alysia, réunis dans le même plan élaboré par Jadina, se met en action… Mais Anathos n'a pas encore dévoilé toute l'étendue de sa puissance ! La confrontation sera définitive, il n'y aura pas de seconde manche.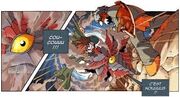 Ad blocker interference detected!
Wikia is a free-to-use site that makes money from advertising. We have a modified experience for viewers using ad blockers

Wikia is not accessible if you've made further modifications. Remove the custom ad blocker rule(s) and the page will load as expected.