Les légendaires ne sont plus… A leur place sont apparus les Infernaux ! Alter ego de nos héros, ils sont au service d'Anathos et de son règne de terreur, et répandent mort et destruction sur leur passage. La population d'Alysia est décimée, méthodiquement et rapidement.
C'est alors que nous retrouvons Shimy, Gryf, Razzia et Jadina. Les anciens héros n'ont pas abandonné la partie, et Jadina qui en a pris la tête a élaboré un plan pour contrer Anathos. Mais Tenebris semble la première à en faire les frais.
Pourront-ils faire face aux Infernaux, et au-delà d'eux, à Anathos dont la puissance semble totalement invincible ?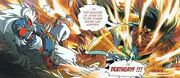 Ad blocker interference detected!
Wikia is a free-to-use site that makes money from advertising. We have a modified experience for viewers using ad blockers

Wikia is not accessible if you've made further modifications. Remove the custom ad blocker rule(s) and the page will load as expected.