Ce tome confirme la nouvelle direction initiée dans l'opus précédent. Le ton est résolument plus noir, les évènements plus tragiques. Les protagonistes ne se contentent plus d'être dans l'action, les circonstances les obligent à s'interroger sur eux-mêmes et sur leurs compagnons… L'humour disparait, au profit des sentiments qui se révèlent, y compris l'amour, ce qui n'est pas sans créer un décalage, compte tenu de l'âge physique des héros. Paradoxalement, on les voit plus adultes, plus durs et cependant plus fragiles…
L'action n'est pas pour autant absente, très loin de là. De fait, après un début plus contemplatif faisant la part belle aux relations, la seconde partie de l'album est une véritable débauche d'énergie et de violence. Les évènements se précipitent, la confrontation avec le dieu Anathos est d'une intensité impressionnante. Quant à la fin, sans en révéler trop, disons que son intensité dramatique dépasse de très loin ce que la série a montré jusque-là…
Cet album est vraiment prenant à lire. Mais le virage pris par l'histoire la rend inappropriée à une lecture par de trop jeunes enfants. La violence a franchi un palier, la mort (déjà rencontrée précédemment mais jusque-là relativisée par les développements ultérieurs) frappe durement, et ce n'est pas encore là le pire… Je ne suis pas sûr de la capacité à prendre de la distance d'un public trop jeune compte tenu de la quantité d'éléments pouvant choquer. A mon sens, douze ans deviennent un minimum… 
Mais inversement, la lecture prend de plus en plus d'intérêt pour l'adulte que je suis, et je pense qu'un public jeune adolescent amateur du genre serait conquis.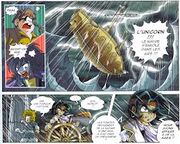 Ad blocker interference detected!
Wikia is a free-to-use site that makes money from advertising. We have a modified experience for viewers using ad blockers

Wikia is not accessible if you've made further modifications. Remove the custom ad blocker rule(s) and the page will load as expected.