DESCRIPTION DU PERSONNAGEEdit
Razzia est le plus fort des Légendaires. Autrefois doté d'un physique d'athlète  L'accident Jovénia a refait de lui l'enfant grassouillet qu'il était dans sa jeunesse. Mais sa jovénialité lui permet de surmonter ses complexes et il répond toujours présent lorsque ses amis ont besoin de lui, il était autrefois au service du sorcier noir Darkhell sous le nom de Korbo l'ombre Rouge, Razzia s'est racheté en combattant pour la justice en tant que Légendaire. Récemment Amputé de son bras droit durant le combat contre le dieu Anathos il a conclu un pacte avec une démonne qui s'appelle Amy en échange d'un nouveau membre aux pouvoirs mystérieux.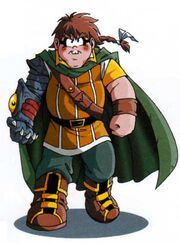 ApparitionEdit
Razzia appraît dans les tomes: 1,2,3,4,5,6,7,8,9,10,11,12,13,14,15,16
Tome de mise en valeurEdit
Razzia est mis en valeur dans les tomes 9,10,11 et 12
Il est en couple avec Ténébris, la fille de Darkhell.
Il est très très fort et a beaucoup de pouvoirs grâce a Amy.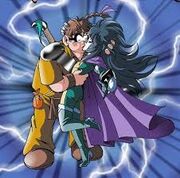 Ad blocker interference detected!
Wikia is a free-to-use site that makes money from advertising. We have a modified experience for viewers using ad blockers

Wikia is not accessible if you've made further modifications. Remove the custom ad blocker rule(s) and the page will load as expected.